Once again I am honored to pinch hit for Frosting for the Cause. If you are not familiar with this amazing cancer awareness project created by the wonderful Paula at Vanilla Bean Baker, every day a different baker/blogger shares their story of how their lives have been directly or indirectly affected by cancer. All participants submit their post with a recipe and donate $25 to a women's cancer research organization of their choosing. The bakers also donate their baked goods to a local hospice, hospital or organization.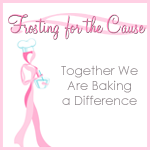 The official day for my post was August 1st (thanks to everyone who followed me over there) but sometimes not all the bakers are able to honor their commitment on time so some of have volunteered to submit an extra recipe so Paula can keep to her schedule. Please check out my post featuring these Funfetti French Macarons and to learn more about this great project.
Head over there now to show some love for the cause!