I am back to practicing decorating sugar cookies and feeling a slight cookie redemption coming on after posting those wackadoodle goatlambs a few days ago.
I ain't bragging or anything. Just saying the cringe factor was way less when I finished these.
'Cept please don't look too closely at the polkadots on the umbrellas.
They are completely uneven. To compensate, I coated them with disco dust.
I coated all the cookies with disco dust.
Every cloud needs a silver lining.
It's a compulsion of mine and disco dust makes everything better.
Everything.
Someone needs to put some disco dust on Khadafy.
This time I used Sweetopia's sugar cookie and royal icing recipes. Both are winners. Her cookies are works of art. If you have not visited, I highly recommend her site not only to ogle her gorgeous creations but she also shares kick ass decorating tutorials.
Here's what I used on Mine.
A few dabs of Wilton's black gel color into the icing to get the gray color/
Silver disco dust
Wilton's Hyacinyth Blue gel color
Wilton's Teal color gel/teal disco dust
Wilton's Violet color gel/lavender disco dust
Wilton's Kelly Green color gel/apple green disco dust
Sweetopia's royal icing came out very white but I squeezed a few drops of Wilton's White White in anyway.
For a great video tutorial on how to create the polkadots, check out this post on University of Cookie.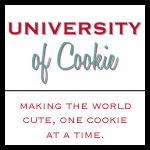 The U of Cookie brings together some of the most talented cookie decorators on the web. It's also a great source of information and tutorials.