White roses for remembrance
Red ribbons for awareness
White roses and red ribbons cupcakes for World AIDS Day
Plus a little bit of fabulous inside..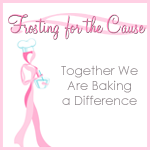 Also, today I am honored to be guest posting again over at
Frosting for the Cause
. Please hop on over and read the story behind
these cardinal cookies.
If you would like to submit a post, there may be still time to get involved with with wonderful project. Contact Paula directly on the site.